MECHANICAL FOAM TYPE FIRE EXTINGUISHER Foam Partable Fire Extinguishers ( Stored Pressure / Gas Cartridge Type)
Shreeji Fire Safety We are engaged in offering high quality Foam (AFFF) Type Fire Extinguishers. The Mist Foam extinguishers have a very complex activation mechanism Type of Fire: A & B Extinguishing Media: Water & AFFF Min. Effective more.. This product of grap fire is a benchmark in the industry of fire safety. It is self sufficient in detecting and extinguishing fire in its installed local area. Being a portable They require the user to cut a metal seal with pliers, shake the extinguisher vigorously, turn it upside down and bang it on the floor to activate it. Foam Partable Fire Extinguishers are ideal for use on class A & B Fire Risk aivalable in 6 ltr. 9ltr standerd models...
Class A Fire : Wood, Textiles, Paper, Plastics, Clothes, Cotton, Mill, Jute Mill etc.
Caution : Do not use on Electrical & Oil Fire
Class B Fire : Petroleum, Oil, Diesel, Paint, Varnish, Solvent, Aviation Fuel, Flammable and Volatile, Liquids etc.
ISI Marked
1 Year Warranty
Squeeze grip operation
Fully refillable
Controlled Discharge
Supplied with wall bracket
Full range of spare parts are available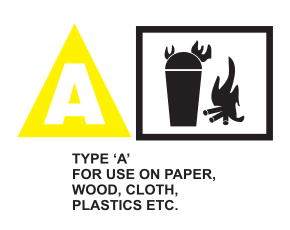 | | | | | |
| --- | --- | --- | --- | --- |
| Model | SPF-6MF | SPF-6MF | SPF-6MFCT | SPF-6MFCT |
| Cylinder Material | M.S | M.S | M.S | M.S |
| Capacity (KG) | 6 | 9 | 6 | 9 |
| Fire Rating | 3A 34B | 4A 55B | 3A 34B | 4A 55B |
| Extinguishing Medium | AFFF FOAM IS 4989 | AFFF FOAM IS 4989 | AFFF FOAM IS 4989 | AFFF FOAM IS 4989 |
| Temperature Range | +5C to +55C | +5C to +55C | +5C to +55C | +5C to +55C |
| Discharge Time | More Than : 13s | More Than : 13s | More Than : 13s | More Than : 13s |
| Discharge Range | More Than : 02 M | More Than : 02 M | More Than : 02 M | More Than : 02 M |
| Test Pressure | 35 BAR | 35 BAR | 35 BAR | 35 BAR |
| Expellant | NITROGEN | NITROGEN | Co2 | Co2 |